---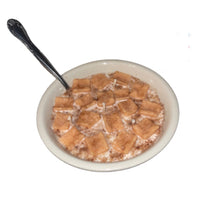 There's nothing better than waking up early, pouring yourself a giant bowl of your favorite sugary goodness of choice and plopping in front of the tv for the best cartoons of the week.
Real glass bowl and spoon that's reusable. 
 CINNAMON TOAST CRUNCH- sweet rich combination of sweet cinnamon sugar, vanilla, and graham cracker.
***MADE TO ORDER***
I know you'll be tempted, but please remember that all creations here at SWEET TREATS by DEDE are made out of wax and not edible
The finest soy wax is used, premium candle fragrances, and lead-free cotton wicks in all creations. All candles are scented to the fullest amount the wax will allow. They are saturated throughout with 100% concentrated fragrance oils so the aroma will scent your home for months without burning
You can buy with confidence, knowing that you're getting the very best, in home scenting goodies